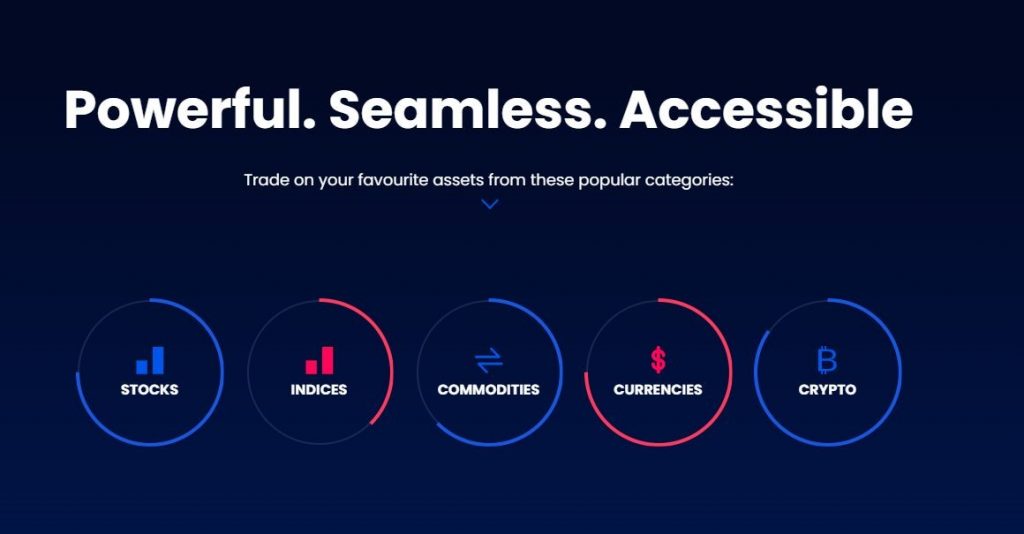 StocksCM is a relatively new Forex broker. It offers simple, yet sophisticated trading solutions that will satisfy the needs of each client. So, it doesn't matter whether you are a beginner or a professional, this broker has something for you.
The first thing I always like to see is if there is any specific thing that will make a broker stand out of the crowd. Well, StocksCM has a clear goal and as it looks like, that goal is already reached. What it aims to achieve is to keep delivering remarkable trading support and become the world's leading provider of online foreign exchange trading services. This is more than enough for me to gain interest and write this StocksCM review, so let's not waste any more time and see how this broker managed to provide such a good service.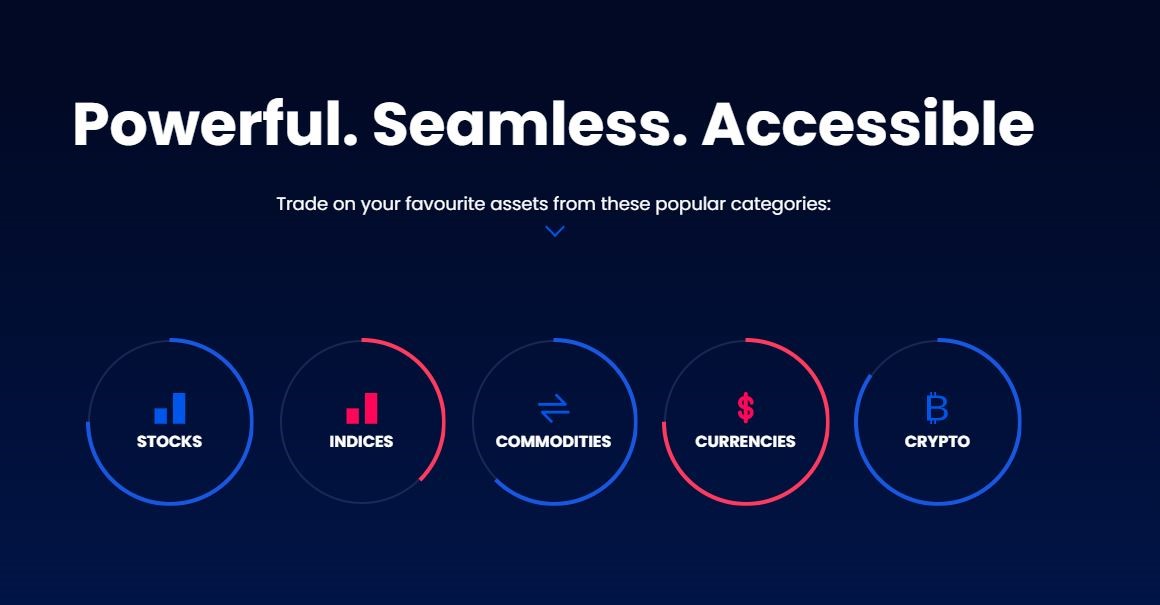 Is the Service Level Satisfying?
I would like to begin with the overall service and its quality. This includes different things, so let's see what we can expect. The website itself is good. It's not full of unnecessary details that serve as a distraction. It's fully optimized and responsive and you can clearly see this is a work of professionals. Since the design depends on personal taste, I won't spend too much time on that. Instead, I want to focus on the platform. After all, that is a place where each trader will spend the majority of the time.
StocksCM implemented a unique, web-based platform. You can check it out even if you are not a registered client, just to familiarize yourself a little bit before you begin with trading. The access is easy, all you have to do is go to the main menu and press on the Trading Platform page.
Once you enter, you'll see that the platform is separated into three parts. This is great because everything is organized and easy to follow. On the left side, there is a column with the most important features (deposit, funds, account state, settings, support). So, each time you want to make a deposit or withdrawal, this is a place you should visit.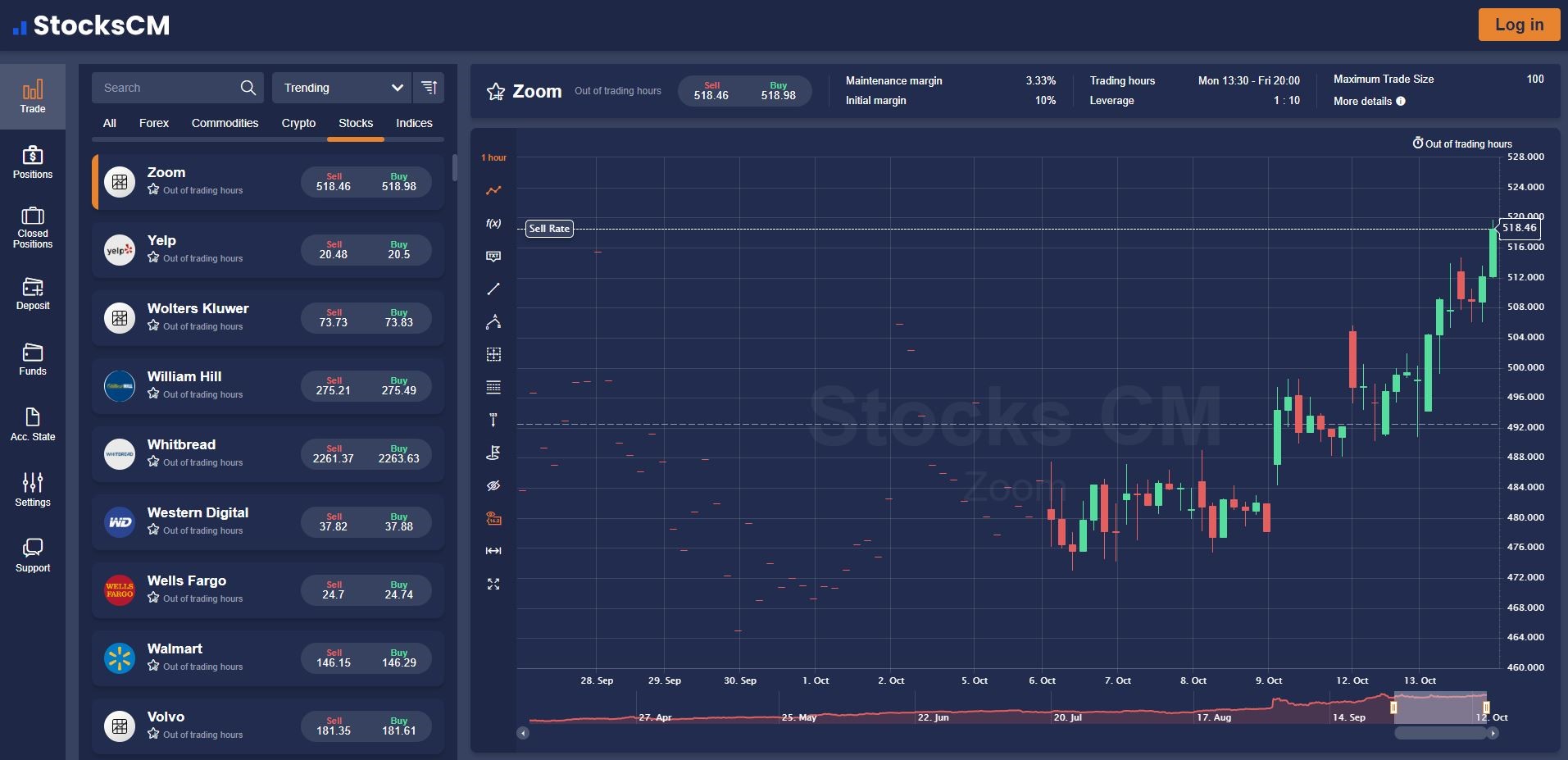 The middle column is dedicated to trading assets. What I like the most about this part is the organization. Everything is divided into categories, so we have Forex, Commodities, Crypto, Stocks, and Indices. Also, you can organize those assets alphabetically, according to daily change or choose the trending ones.
Lastly, there is the third column with all important information about specific assets you select. Inside, you will see information such as trading hours, sell and buy price, maintenance margin, initial margin, leverage, etc. As a cherry on the cake, this platform can be used on every device.
Needless to say, I am very satisfied with this part and this StocksCM review is heading into the positive direction. So far, the promise this broker made about excellent service is fulfilled and we can move on to the next part — customer support.
If you wish to contact customer support, there is an option to do that using Live Chat in the corner at the bottom of the page. This is the easiest way to seek help and what I like the most is an option to choose what concern you have. For example, you can press on Account manager call request, Trading Platform, Withdrawal, etc. This way, your question will go to the right department and you won't have to wait a lot of time to receive an answer.
Of course, this is not the only way to contact them. There is a fill-in form that works similarly to email, but it is a little bit more convenient. If you choose to send a message using that form, you won't get an instant answer. Customer service has its working hours and you can expect a reply within that period of time. Also, there is an email and two phone lines (for Australia and the United Kingdom), so you have a variety of options at disposal.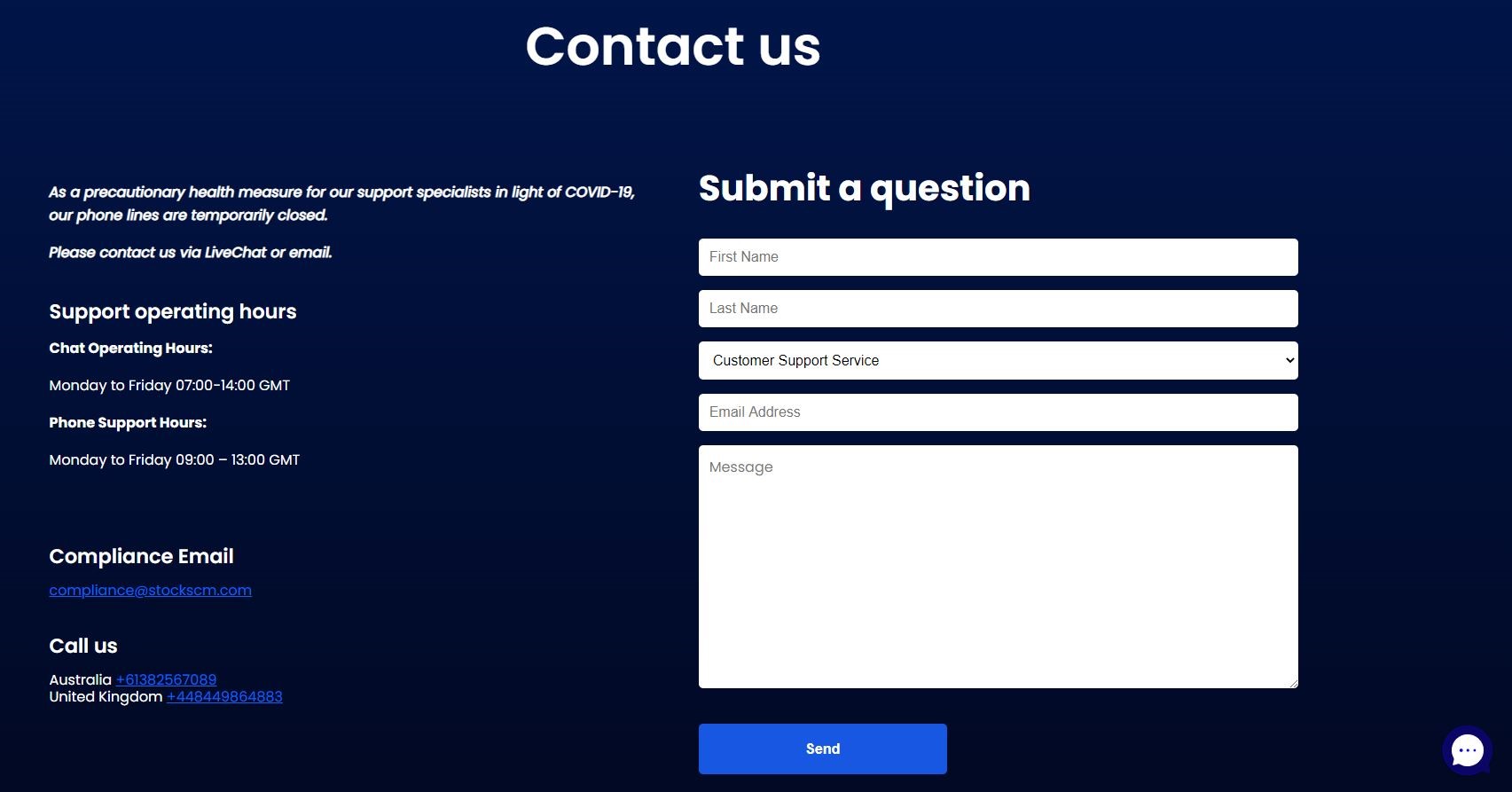 Another important part of each service is Education. You cannot expect to have good results and fulfill your trading dreams without constant knowledge-improvement. This is the part where we can see the best if a broker really takes good care of its clients or not. StocksCM already proved that customer satisfaction is in the first place, so there is no doubt this will meet my expectations, as well.
The education segment is made of eBooks (there is enough material for every level of experience in trading, from Basic Technical Analysis to Advanced Strategies), Asset Index (you can learn a little bit more about each company before you decide to trade with their CFDs), Frequently Asked Questions (this part is excellently done and the probabilities are high that the question you have is already answered, so you don't have to spend time on contacting support) and Glossary (before you even consider to deposit, this is the first thing you have to visit and make sure you are familiar with every important expression).
The Selection of Accounts
Now, when we are certain that the service is flawless, we can continue to Account Types. There are four different accounts (VIP is Invitation Only). Basically, you can choose the account depending on the amount of money you are willing to deposit. With the Silver one, the minimum requirement is 250 EUR. That amount is a little bit higher with a Gold account, so you will have to deposit 10,000 EUR at least, and with Platinum that amount is 50,000 EUR.
Of course, that is not the only thing that makes these accounts different. Each one of them brings certain benefits. With Silver one, you will get over 200 tradable assets, leverage up to 1:100, and market review. With a Gold account comes a dedicated senior account manager, bonus funds, gold spreads, leverage up to 1:200, risk management planning, and many other things. Yes, you have to deposit more money, but you will also get better conditions.
With a Platinum account, you will receive all those things from the Gold one, but as an addition, there are trading signals, weekly webinars, and private analyst sessions. Lastly, there is a VIP account that will bring you all the benefits you can imagine. From complete access to webinars to the prioritized withdrawal process. This broker takes excellent care of clients, so you can only imagine what treatment you can get by becoming a VIP member.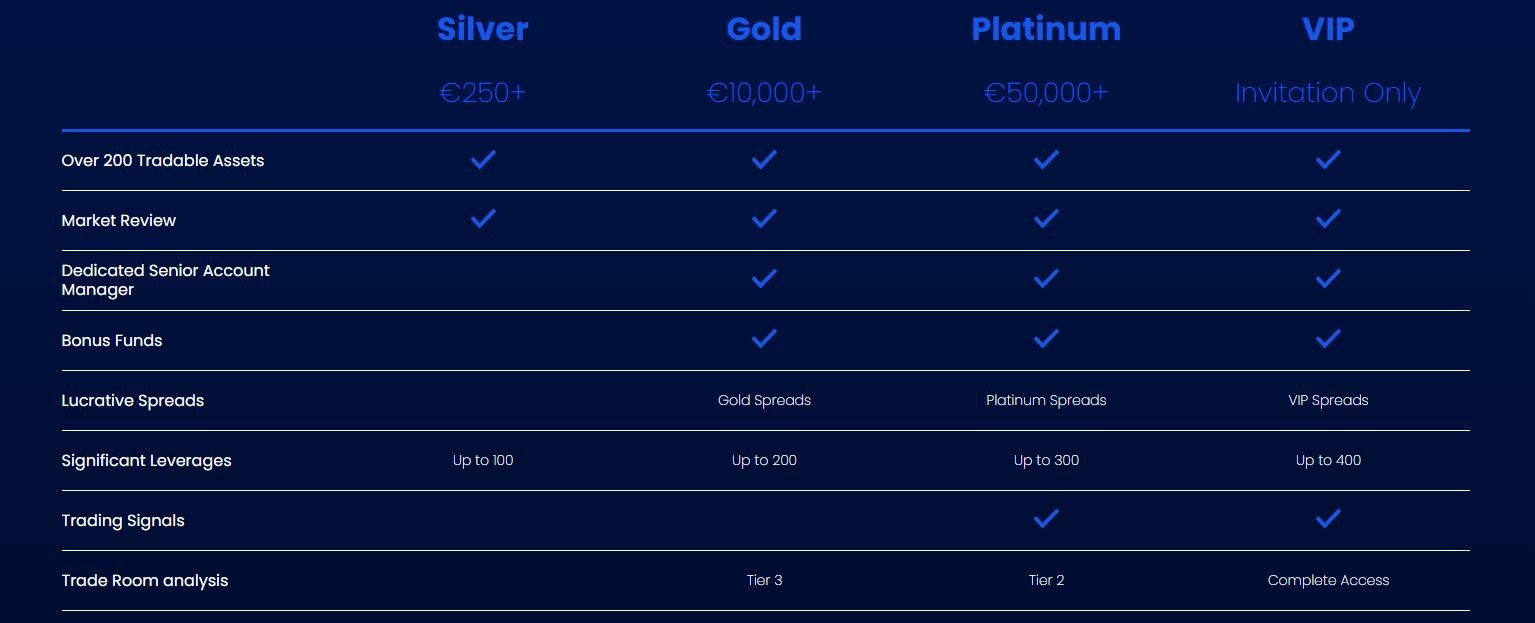 Deposit and Withdrawal Policy
There are numerous deposit methods and you can choose the one you are used to. Whether it is Credit/Debit Card, Bank Wire, or Bitcoin Transfer there are no deposit fees. So, simply choose the most convenient one because the money will be on your trading account instantly either way.
Each member of StocksCM gets a different withdrawal policy depending on the account. The average waiting time is seven to ten business days because before each withdrawal you need to go through a verification process. This is an excellent thing because it helps with fraud prevention and we all know how important it is to have a feeling of safety while trading.
With the Gold account, you will get prioritized withdrawal level three, while with the Platinum account it is level two. Prioritized withdrawal levels are a common thing, but what's not so common is transparency. With StocksCM you will know from the beginning which level goes with each account, so there are no negative surprises.
A Word for the End
StocksCM is a secure broker that will keep your funds safe and provide you with excellent service. If you become a registered member, you can count on flawless support and good trading conditions.