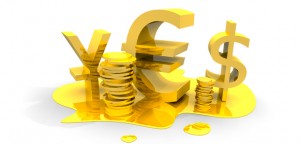 FOREX is the shorter form for Foreign Exchange. Forex trading, generally known as FX trading, involves the exchanging of various currencies among the many countries, institutions and corporations. When one particular currency increases in value, it strengthens against the other, lowering its value. The forex market is different from others simply because it has the best trading volumes, great liquidity and continuous operation over 24 hours each day, 5 days per week commencing from 00:00 Greenwich Mean Time (GMT) on Monday (some commencing slightly earlier) to 10:00 p.m. GMT on Friday (some ending slightly later). You can find traders quoting currencies in most time zone from these major trading markets: Frankfurt, London, New York, Tokyo, Hong Kong, Australia, New Zealand, etc.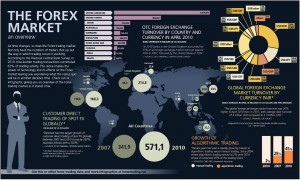 The foreign exchange market is definitely the world's major trading market with an estimated daily turnover of about US $4 Trillion.
Just like any other trades, forex trading involves buyers, sellers and intermediaries. While sellers and buyers in this particular market may very well be financial institutions, hedge funds, investment management organizations, commercial corporations and retail investors, the intermediaries are brokers. Forex brokers are market makers who set bid and ask rates of a currency pair for a buyer or a seller. Buyers can earn money by buying a currency at a reduced price and selling it later for a better price. All these trades are to be done through the brokers. With the introduction of the internet, it's now easy for common traders to trade currencies conveniently using their computer by simply clicking a mouse through their online brokerage accounts.